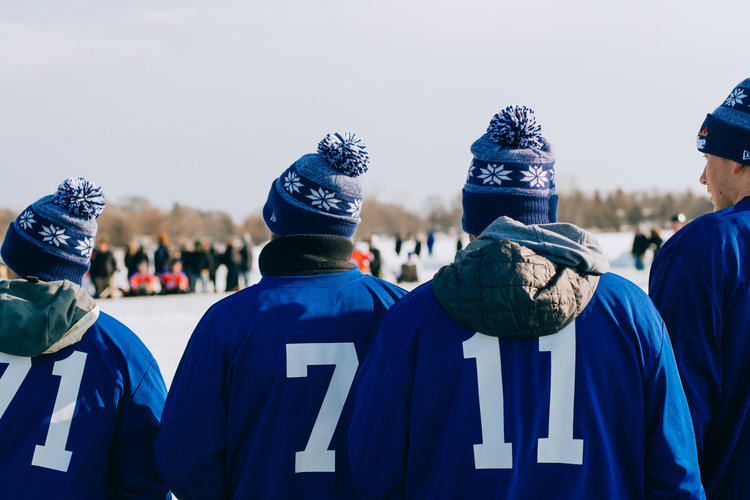 ---
Labatt Blue U.S. Pond Hockey Championships

February 2018

Winter in Minnesota is about embracing the weather and appreciating the unique opportunities it brings. The Labatt Blue U.S. Pond Hockey Championships represent one of these opportunities, where Minnesotans and hockey players from around the country come together on a lake in the middle of Minneapolis. Snow is cleared off the ice, and 25 hockey rinks are built in the middle of the lake for a weekend-long hockey marathon. Labatt has sponsored the tournament since 2015, and hosts pond hockey tournaments around the Midwest and New England.

I worked alongside a NYC-based film production company to document the weekend and capture the sights and expanse of the event. Rather than just action shots on the ice, my focus was on the festive atmosphere players and fans at the whole event. Although it was a commercial project, I approached it through a photojournalist perspective.

The biggest challenge of photographing this event was dealing with the extreme temps that Minnesota winters throw at us. Having spent more than a decade in Minnesota, I've learned to enjoy the magic light that comes in the dead of winter, and to not underestimate the importance of a few hand warmers.

Games consist of only two 15-minute periods, so they move quickly and give players plenty of time to enjoy beers and socialize with other teams. The majority of the images I created over the weekend were authentic moments, but I also took the opportunity to curate some shots by carrying extra beers with me and sharing them with "thirsty-looking" characters.

The result was a library of images that celebrate the hockey lifestyle for which Labatt is known and loved.