Just before 11am on Thursday April 21st, Minnesota Public Radio received a tip that there was an emergency at Paisley Park. I was told by The Current's senior web editor to start gathering my gear. Within a few minutes, it was confirmed that someone had been found dead, and while it was rumored to be Prince, nothinghad been substantiated. Grabbing my laptop, hard drives, and everything I'd need to send images from the field, I was on my way to Paisley Park to join The Current's music reporter, Andrea Swensson.
Rumors were still flying when I arrived. Roughly a dozen journalists and a few Prince fans had gathered on the grass across from the gates and chain link fence surrounding Paisley Park. Sheriff's vehicles were still occasionally coming and going. Within 30 minutes of arriving, we learned the unfortunate truth: Prince was dead. Andrea Swensson had confirmed it from Prince's friend and bandmate.
Seemingly within minutes, fans were arriving to pay respects. Bringing purple flowers and mementos, a memorial began to form on the fence around Paisley Park. As the news spread, many more fans and media arrived in Chanhassen. Police blocked the side road along Paisley Park, and satellite trucks lined up to send the news around the world. Fans from across the Twin Cities dropped what they were doing, even leaving work to visit Paisley Park that day. Many were in shock, driving there without really thinking, looking for solace in being surrounded by others also grieving.
Meanwhile, a second memorial for Prince had begun outside of First Avenue, the venue where he had filmed Purple Rain. Though the afternoon, plans for a possible memorial concert began to take shape. Seeing a need for a cathartic outlet, First Avenue and The Current began moving forward at full throttle to put something together. It was clear the shock of Prince's death was hitting harder and reaching further than anyone could have expected.
By 5pm, the announcement had went out – there would be a Prince tribute concert on the street next to First Avenue. The City of Minneapolis had given The Current and First Ave a permit to build a small stage and close half of 7th Street. No tickets, just a public tribute to a local musical hero. As the stage was quickly being assembled, more and more fans began to arrive. By 8pm, when the DJ started playing music, the crowd had substantially outgrown the ½ block, forcing all of 7th to be closed down. But the crowd didn't stop there; it grew to a point where police had to shut down First Ave. as well – an estimated 10,000 people had filled the streets of Minneapolis.
As each vocalist took the stage to sing a Prince cover, the audience joined in unison. It was a most fitting tribute to Prince, this genuine and spontaneous street party. But the significance of the event wasn't completely realized until all of the local musicians who were lending their talent that night gathered on stage for a rendition ofPurple Rain. In that moment, the outpouring of love and compassion it required to bring this many people together became clear. No other artist but Prince could have brought people together to cry, to hug, to dance and to sing in such glowing tribute.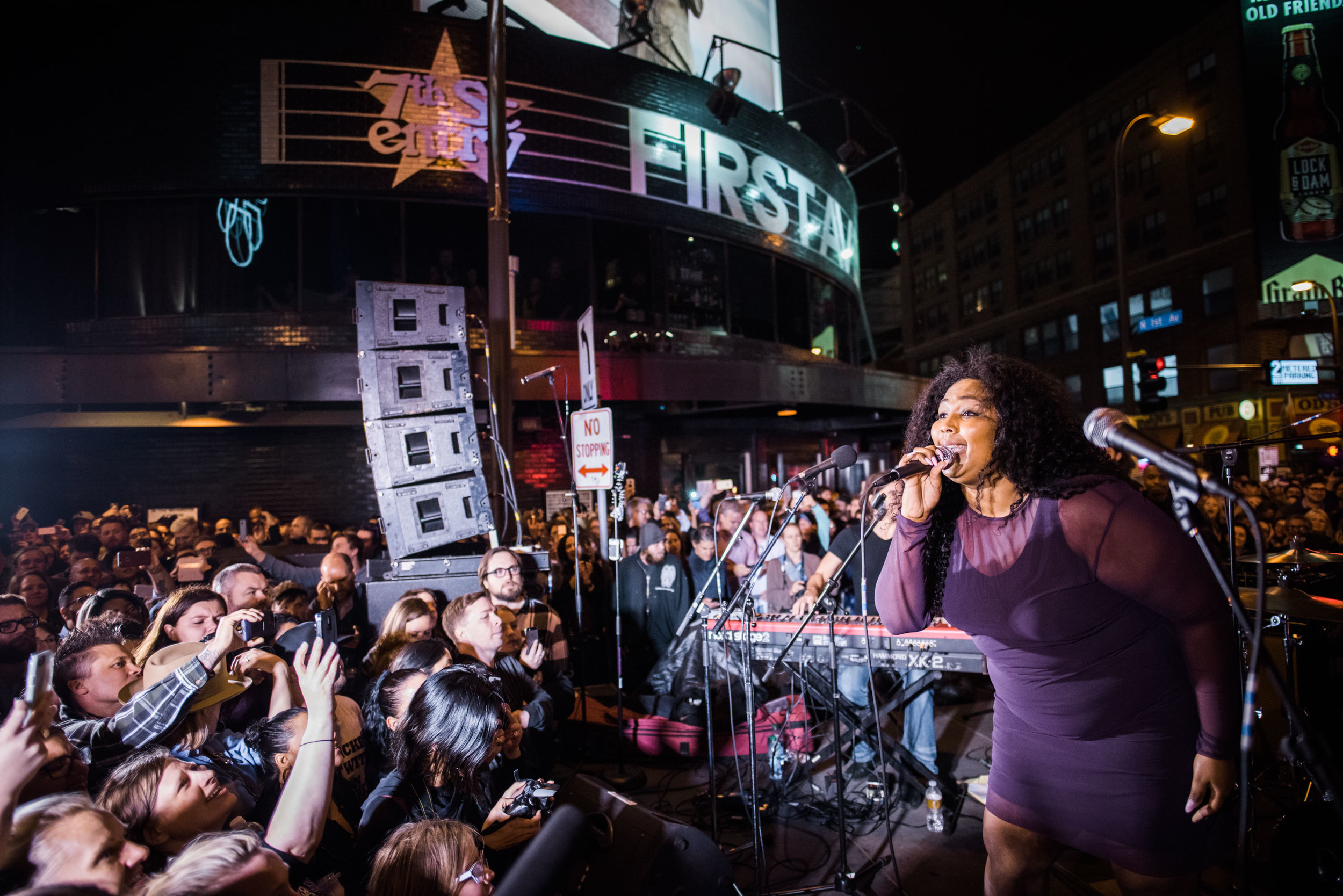 Photos by Nate Ryan, ©Minnesota Public Radio.